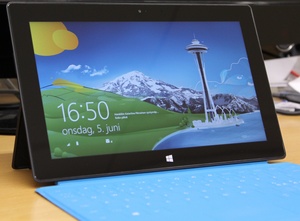 Following the across the board $150 cuts to its failed Surface RT tablet,
Microsoft
has announced it will be discounting the more popular Surface Pro by $100, as well.
The cut is good for the 64GB and 128GB models and is valid until August 29th.
So far, the cuts have been confirmed for U.S., Canada, Hong Kong and Taiwan, with all other regions expected to see the cuts at some point.
The 64GB model now sells for $799 and the 128GB sells for $899.
"We've been seeing great worldwide success with Surface RT pricing and keyboard-cover promotions over the past several months and are proud to offer Surface Pro at more affordable prices starting today,"
says
Microsoft.