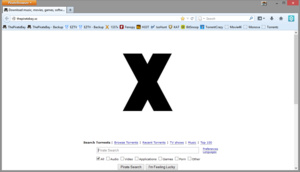 The new browser provided by the Pirate Bay to beat censorship and web site blocking has been downloaded over 100,000 times in three days.
The
PirateBrowser
works by taking advantage of the
TOR
network, which can be used to get around censorship and web tracking by routing traffic through the network before eventually connecting to the remote location via an exit node. If the exit node is not subject to any such censorship, then it will have no problem downloading and relaying data from the remote website back to the user.
This would come in handy for anyone who finds that their ISP has blocked access to a website. In Ireland, for example, the two main service providers (
UPC
and
Eircom
) have been forced by the High Court to block access to the Pirate Bay website, meaning users who attempt to go to the site will get a message explaining the court's decision instead.
By using the TOR network correctly, this block can be easily overcome.
However, you should remember not to confuse the PirateBrowser with the
TOR Browser Bundle
. The PirateBrowser is not intended to provide anonymity and it should not be used for regular browsing unless its absolutely necessary. Even though both browsers will stop a remote website from seeing your real IP address if configured and working correctly, it is important to know that any unencrypted communication with the remote site could be easily viewed by the operator of an exit node. Therefore, do not use either browser to login to any Internet-based service, unless you are sure that HTTPS is in use at least.
If all you want the PirateBrowser to do is to get by website blocks, then that shouldn't be a problem.
Get it here:
PirateBrowser
.
(via:
TF
)