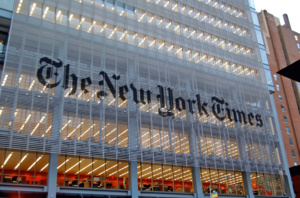 The New York Times has revealed that its website was hacked on Tuesday, and pointed the finger of blame at the Syrian Electronic Army.
The website was unreachable from Tuesday at around 3pm local time, though it has been restored since. While
NYTimes.com
was unreachable, the iconic news outlet continued to post stories to its Facebook page and to a mirror site located at
news.nytco.com/global
.
"The NYTimes.com domain is pointing at SyrianElectronicArmy.com which maps to an IP address in Russia, so it's clearly a malicious attack,"
Ken Westin
, a security researcher for
Tripwire
, an online security company,
told the BBC News website
.
Earlier this month, a technical glitch had forced the New York Times website down, and the incident was misreported as the result of an attack.
"Media attacks seem to be escalating and moving away from annoying, simple denial of service attacks and toward full domain compromise which, if successful, puts millions of NYT website users at risk,"
said Mr Westin.