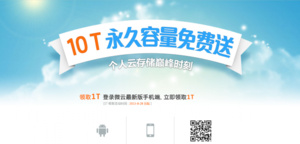 Just days after rivals Baidu and Qihoo 360 began offering users 1TB of free cloud storage, Chinese tech giant Tencent has one-upped them, offering 10TB of free storage.
You must sign up for a Tencent QQ account and also download the most updated Tencent Cloud (Weiyun) mobile app. From there, you must click through Weiyun's
promo site
and you will receive 1TB.
As you use up more space, Tencent will continue to add to your storage space, up to the max at 10TB.
By comparison, American-based companies have been offering anywhere between 5GB-25GB for free.
Check how the space increases: