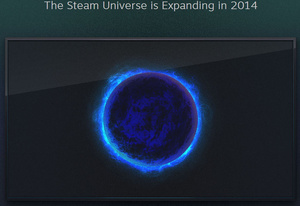 Valve has setup a new teaser site to drive interest ahead of an announcement that will be made on Monday.
"The Steam Universe is expanding in 2014,"
we are told, with most expectations being that Valve is likely to announce the
Steam Box
, which is hardware the company has been working on for the living room.
"Last year, we shipped a software feature called Big Picture, a user-interface tailored for televisions and gamepads. This year we've been working on even more ways to connect the dots for customers who want Steam in the living-room. Soon, we'll be adding you to our design process, so that you can help us shape the future of Steam,"
the
teaser website states
.
A countdown clock is set to expire on Monday afternoon (Eastern Time, US).
Either this will be a Valve-branded Steam Box (Valve co-founder Gabe Newell did reveal already that the Steam Box will be distributed entirely by Valve) or perhaps its the announcement of partnerships with hardware manufacturers to make PCs that are more living-room/TV friendly?
What do you think Valve will reveal?