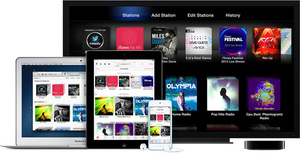 According to Bloomberg, Apple's iTunes Radio will become available in several more countries beyond the United States in 2014.
The report cites sources familiar with Apple's plans for
iTunes Radio
, which became available with the release of iOS 7 in the United States. It became the primary competitor to
Pandora
over night, and now Apple seeks to 1-up its rival by expanding to territories beyond its current reach.
It intends to launch iTunes Radio in the United Kingdom and Canada at some point in 2014, while it also expects to expand into Australia, New Zealand and Nordic countries during the year.
Apple is able to expand so quickly because it negotiated rights agreements with major record companies, while Pandora relies on rights granted by the state for Internet radio services in order to operate. Unless Pandora can strike similar deals, it may be quickly outpaced on the International stage by Apple.
Apple's Eddy Cue said recently that the iPhone-maker
plans to launch iTunes Radio in over 100 countries
.