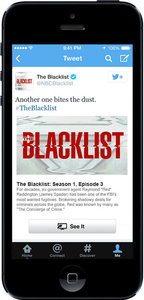 Comcast and Twitter have announced a deal that will allow you to get more control over some content directly from tweets.
The deal will result in a
"See It"
button becoming visible on some tweets that are linked to NBCUniversal programming. By tapping the See It button, Twitter users (and Xfinity TV customers) will be able to tune-in to those programs in several ways.
A See It menu will provide options including the ability to tune to live TV or start a show On Demand on their set-top box, tune in to a show online or on their mobile device, set DVRs, set reminders or even buy theater tickets through Fandango.
"See It is a simple yet powerful feature that creates an instant online remote control,"
said
Brian Roberts
, Chairman and CEO, Comcast Corporation.
"Comcast is taking a leap forward in social TV by enabling Twitter users to more easily find and view the shows they want to watch and discover new shows. Twitter complements the live viewing experience and is an ideal partner for Comcast and NBCUniversal."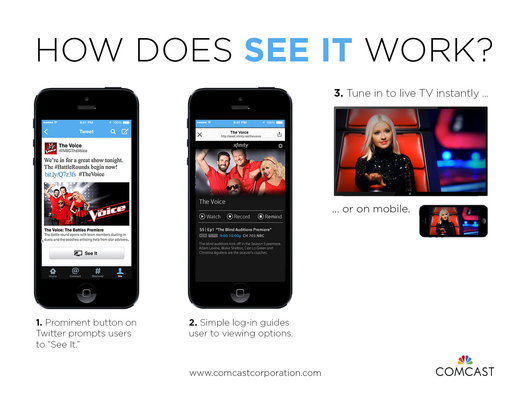 This season, NBCUniversal television shows on the following networks will use See It on Twitter: NBC, NBC Sports Network (NBCSN), CNBC, MSNBC, USA, Syfy, Bravo, Oxygen, E!, Esquire Network and The Golf Channel. Shows include: The Voice (NBC), The Blacklist (NBC), Chicago Fire (NBC), The Michael J. Fox Show (NBC), Sunday Night Football (NBC), Access Hollywood, NHL, Premier League Soccer, Sochi Olympics (NBC and NBCSN), Today Show (NBC), Psych (USA) and Suits (USA), among others.