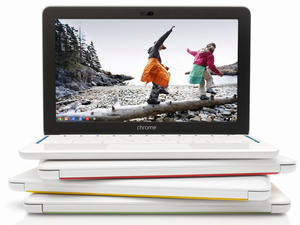 The new HP Chromebook 11 has been shown off this week, available for just $279.
The new 11-inch HP Chromebook 11 weighs just 2.3lb. It is powered with a Sasmung Exynos 5250 CPU, 2GB of RAM and 16GB SSD storage. It support 802.11 a/b/g/n Wi-Fi and Bluetooth 4.0. It charged via microUSB for more convenient travel.

Its magnesium frame has no sharp edges with a completely screw-free design, and no air vents or fans. The new Chromebook's screen has a 176-degree viewing angles so you can see even when looking at it almost completely sideways.

The speakers are located under the keyboard rather than on the bottom of the chromebook for better sound.

Google also throws in 100GB of Google Drive cloud storage for free for two years, and a 60-day free trial of Google Play Music All Access.

It is available now for just $279 from all the usual suspects.