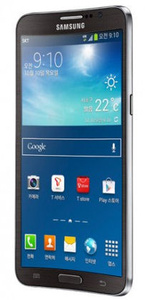 Samsung has unveiled its new Galaxy Round smartphone, confirming rumors about an upcoming Samsung device with a curved display.
The device will be launched in South Korea over the coming days through carrier SK Telecom. It features a 5.7-inch curved OLED display (1080p), and weighs 154g.

As a result of its unique curved design, users can take advantage of round integration experiences like the Roll Effect that enables the user to check information such as the date, time, missed calls and battery easily when home screen is off, and the Gravity Effect for creating visual interaction with the screen by tilting the device.

Further technical details and information about available outside South Korea are unavailable at this time. It will launch in South Korea beginning tomorrow in "luxury brown" for the equivalent of around $1,000.