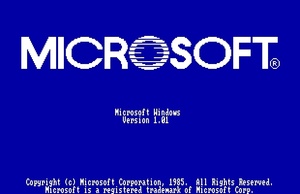 Microsoft's Windows operating system
turned 30
on November 10th, after first being unveiled in 1983 by founder Bill Gates.
The story goes a little bit further back, when Gates and friend Paul Allen started what was then called 'Micro-Soft' in an Albuquerque garage in 1975. By 1980, IBM asked
Microsoft
to create an OS for its PC, and the company purchased the operating system QDOS, before changing it to MS-DOS before licensing it to IBM.
MS-DOS was hard to use, and required a good knowledge of the command line, so the company began working on a better graphical interface that used a mouse and on-screen icons, menus and scroll bars.
Windows was then announced in 1983 and eventually version 1.0 was launched in November 1985. Windows 2.0 came later, in December 1987, followed by Version 3.0 in May 1990. Windows 3.1 became a huge commercial success, selling 10 million copies.
In 1993, the company revealed the first 32-bit OS, Windows NT, which became a basis for later versions. Windows 95 added the Start button, taskbar and built-in Internet support for dial-up networking. In 1998, Windows 98 added USB and
DVD
support, and was the last version of the OS to be based off of DOS.
By 2001, the first real modern OS was unveiled, Windows XP, which would eventually become the best selling operating system of all-time. It also included a 64-bit model, a Media Center edition and Tablet PC editions. Windows Vista was a flop 5 years later, but Windows 7 revived the brand in 2009. As of today, Windows is now in version 8.1, the first version of the OS to be built for the touchscreen.