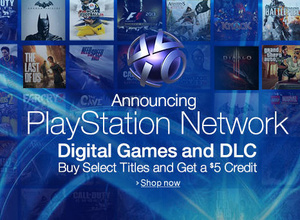 Amazon has launched its own store to sell digital games and DLC for PlayStation Vita, PlayStation 3 and PlayStation 4 consoles.
The Amazon store offers another venue to buy digital items for the Sony consoles, and probably will mean there will be more offers and promotions to look forward to.
FOr the launch of the store, Amazon is offering $5 PSN credit to anyone who buys select digital purchases and for those who participate in today's buy 2 get 1 free offer for PS4 games.
A list of games that qualify for the $5 credit includes Assassins's Creed IV Black Flag, Batman Arkham Origins, Battlefield 4, The Last of Us, FIFA 14 and
more than you can see here
.
"We will send you confirmation of your credit via email within two days after your qualifying order is completed,"
Amazon's store reads.
"This credit must be used by 12/31/2014 (and cannot be used on Amazon.com Gift Cards or PlayStation Network Gift Cards)."
More Info:
Amazon PlayStation Network Store