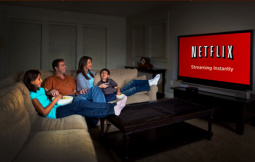 Netflix has launched on Virgin Media's service in the UK, coming to over 1.8 million Virgin Media TiVo homes.
To celebrate the launch, Virgin Media is offering a six-month gift subscription to Netflix to new or existing customers who sign-up to Virgin Media's Premiere or VIP Collections. Virgin Media TiVo customers on other packages will be able to make the most of the one-month free trial offered to all new Netflix members.

The brand new Netflix app complements Virgin Media's huge collection of On Demand entertainment, with over 6,000 hours all ready to watch instantly. This includes a choice of films from Virgin Movies, Sky Movies, PictureBox and now Netflix.

"With the addition of our Netflix app, Virgin Media customers have an unbeatable line-up of movies and TV series to choose from. Whether it's part of a subscription or pay-per-view, Virgin Media TiVo will help you find everything from the classic gem you've always wanted to watch to this summer's biggest hits, all seamlessly integrated for simple, easy viewing," said Dana Strong, Virgin Media's chief operating officer.

"People love watching with Virgin Media TiVo and we continue to lead the way as the fastest growing pay TV service in the country. In two years, 1.8 million homes have signed up to Virgin Media TiVo and what we believe is the best way to watch television."