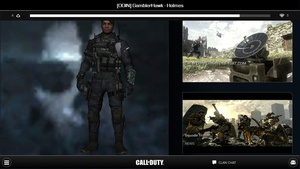 A Call of Duty app for iOS, Android, WP8 and Windows 8 has been released following the launch of Call of Duty: Ghosts.
The free app lets users create or join a clan, and communication with clan members through clan chat. After November 25, you can battle for territory against multiple Clans with locations on the Call of Duty Clan Wars map tied directly to Call of Duty: Ghosts multiplayer game modes.
Also coming later will be the ability to use a smartphone or tablet for various second-screen features. It will allow players to do things like
make last-second changes to loadouts before a match begins
or get extended information about players after a match ends.
Check this dmeo video about the app:
Call of Duty app for iOS:
ITunes
Call of Duty app for Android:
Google Play
Call of Duty app for Windows Phone 8:
Windows Phone Store
Call of Duty app for Windows 8:
Windows Store