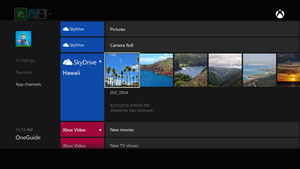 Microsoft has announced that SkyDrive is coming to Xbox One on launch day and its Channel 9 offers a video demo.
The SkyDrive app on Xbox One lets you view all your photos and videos you have uploaded to SkyDrive and also view videos or photos that have been shared with you by other users of the cloud service.

You can open photo albums from channels in the OneGuide, play music alongside your slide show with Xbox Music, and control the whole app with gestures and voice, courtesy of Kinect. And, of course, you launch the app by saying "Xbox: Go to SkyDrive".

Here is a demo from Channel 9 featuring Jeff Henshaw, head of the Xbox Incubation team...