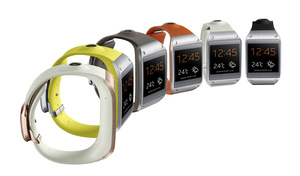 Samsung
has announced Galaxy Gear smartwatch sales figures for the first time today, and they are higher than expected.
The company has sold 800,000 units to date, including 50,000 in South Korea.
In an effort to boost sales, Samsung has been bundling the Gear with its Note 3 phablet with a discount, and some retailers in the UK have gone even further and made the Gear free with contract and a Note purchase.
According to the
report
, Samsung now calls the Gear the "most sold wearable watch available in the marketplace," although the competition is not great with only
Sony
and Pebble as competitors.
Additionally, the company says it will continue to add Gear support to more of its devices, and offer more promotions for the holidays.