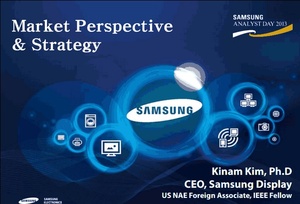 After hinting during their annual Analyst Day that an upcoming device would feature 560 ppi,
reports
are claiming that device will be the upcoming flagship Galaxy S5.
Samsung
Display CEO Kinam Kim made a whole presentation on the company's 2014 lineup, and with it he confirmed a 560 ppi Super AMOLED phone display.
At an expected 5.3-inch screen, that would suggest a
resolution
of 2600x1440. Samsung calls that display a WQHD resolution, and the standard calls for a 2560x1440 resolution (3.7 million pixels).
Additionally, the slideshow includes plans for bending, foldable and stretchable designs that will likely be the first of their kind.