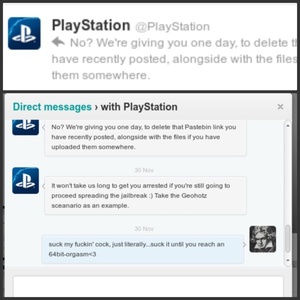 Earlier this week, an poster going by Reckz0r posted to
pastebin
about an 'exploit' for the new
PlayStation 4
that would allow the console to be jailbroken.
The pastebin had links to a PS4 Devkit, and a full jailbreak package, but the files did not really exist and there were no mirrors to the links.
Reckz0r even went as far as to post a screenshot of conversations between himself and "playstation" on Twitter to explain why the files were taken down. Of course,
Sony
would never directly contact a hacker via Twitter, especially one claiming to have exploited their latest hardware.
With another fake exploit, the developer has once again sullied his name. Last year he posted a fake Xbox Live hack and copy/pasted other exploits and claimed them as his own.
More info
here
.