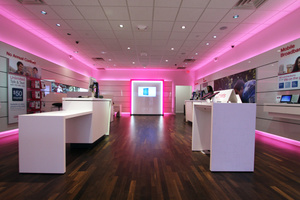 Thanks to spectrum they acquired when merging with MetroPCS, T-Mobile USA has begun rolling out their faster
LTE
network in major metros.
The carrier
will eventually offer
the faster (20-by-20) service to "90 percent of the top 25 U.S. markets" which will offer double the amount of spectrum as the company's current LTE network.
T-Mobile's initial LTE service is available in 40 of the U.S.' top 50 markets.
The news comes on the heels of Verizon Wireless announcing the launch of AWS LTE, which offers speeds theoretically as high as 150 Mbps with an expected rollout for the next year. Additionally, Sprint says it will be boosting LTE speeds in the next three years, as well, using spectrum acquired from Clearwire.
All LTE-capable T-Mobile devices will work with the new network.