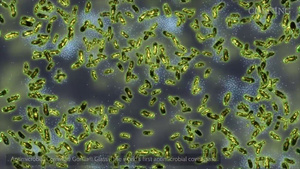 Corning Incorporated has announced its new Antimicrobial Corning Gorilla Glass at the Consumer Electronics Show.
Like door handles, counter tops, remote controls and gaming controllers, mobile devices and touch screens can easily accumulate all kinds of microbiology as people use them. In fact, some research into mobile phones would make germaphobes shiver at the nasties that can be found lurking on their expensive devices.

Corning Incorporated is looking to exploit our collective distaste for our microscopic distant cousins with its new Antimicrobial Gorilla Glass. It will inhibit the growth of algae, mold, mildew, fungi, and bacteria with the help of ionic silver, which is incorporated into the glass surface for sustained activity.

"This innovation combines best-in-class antimicrobial function without compromising Gorilla Glass properties. Our specialty glass provides an excellent substrate for engineering antimicrobial and other functional attributes to help expand the capabilities of our Corning Gorilla Glass and address the needs of new markets," said James R. Steiner, senior vice president and general manager, Corning Specialty Materials.

The new glass is being tested by a variety of manufacturers with high volume production demonstrated. There are already solutions in the market for devices and shared-touch surfaces, like antibacterial wipes, but each manufacturer has different advice on their use.

Outside of common electronics uses, Corning is also eyeing potential demand from healthcare facilities and public transportation.