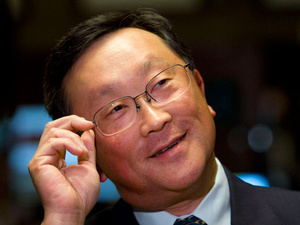 BlackBerry's interim CEO John Chen has become the permanent chief executive at the struggling smartphone maker.
"After earnings, and again in meetings with media and analysts at C.E.S., John said that he would be BlackBerry's C.E.O. until the company is back on solid financial footing,"
says
the company.
"The search for a CEO has been put on the back burner for now."
BlackBerry fired the previous CEO, Thorsten Heins, after years of mounting losses and after months of searching for a potential buyer.
Since his hiring, Chen has fired many former senior executives and signed a deal with manufacturer Foxconn, in which the company will outsource both design and most of the risk of its handset business. Additionally, the company will focus on government and enterprise users again, as its consumer ship has mostly sailed.