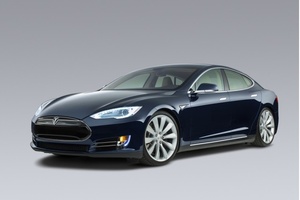 According to a new
report
, Apple's head of acquisitions, Adrian Perica, had high-level discussions with Tesla CEO Elon Musk last spring, with
Apple
at the time considering buying the company or its battery factories.
This is not the first time we have heard of such a move, as over the fall, European financial analyst Andaan Ahmad wrote an open letter stating that Apple should partner with the luxury electric car maker, or buy it outright. His thesis was simple: buying Tesla would open up a huge new revenue market for the company, which has seen its growth practically peak.

If Apple is looking to purchase, they missed a cheap opportunity last year. Since the beginning of 2013, Tesla's market value has appreciated from under $5 billion to $24 billion today.

Additionally, Apple is also rumored to be exploring medical devices, "specifically sensor technology that can help predict heart attacks."

Apple has over $160 billion in cash and cash equivalents, enough to buy nearly any company it wants.