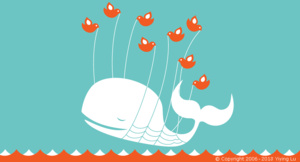 For the second time in two weeks, Twitter was temporarily down today, due to a software glitch.
The popular microblogging service was down for about 45 minutes starting at 1PM EST.

On March 2nd, during the Oscars, Twitter crashed briefly as well following Ellen DeGeneres' now famous "selfie" hit the service and quickly saw over 3 million retweets.

Read Twitter's status update: "Update [12:12pm PDT]: During a planned deploy in one of our core services, we experienced unexpected complications that made Twitter unavailable for many users starting at 11:01am. We rolled back the change as soon as we identified the issue and began a controlled recovery to ensure stability of other parts of the service. The site was fully recovered by 11:47am PDT. We apologize for the inconvenience. "

In its younger years, Twitter was infamous for downtime that sometimes extended for hours on end. The "fail whale" became the unoffical symbol of Twitter before it invested millions in 2013 to make sure the site stayed up.