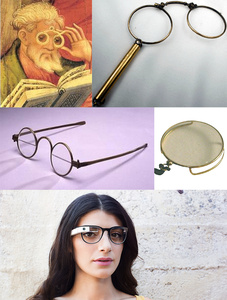 Google has announced another major milestone for its Google Glass headwear, a deal with luxury eyewear company Luxottica.
Luxottica is responsible for major brands like Ray-Ban, Oakley and Persol. The company has over 5000 retail stores in the U.S.
Reads Google's
post
:
When the first eyeglasses appeared in the 13th century, they took off and over the next 700 years, they evolved over and over, with the first bifocals appearing in the 18th century, and the monocle and sunglasses shortly after. Nowadays, glasses are global phenomenon – a reflection of both function and fashion.

We see Glass as the next chapter in this long story. Light, simple and modular, Glass introduces new functionality as your glasses get smarter – but bringing your own style to Glass is just as important. Earlier this year, we launched the Titanium Collection, designed by the Glass team. Between frames, shades, and colors, there are over 40 different ways for Explorers to make Glass their own today... but that's not enough.



Luxottica understands how to build, distribute and sell great products that their clients and consumers love – something we care deeply about at Glass, too. They'll bring design and manufacturing expertise to the mix, and, together, we'll bring even more Glass style choices to our Explorers. In addition, Luxottica's retail and wholesale distribution channels will serve us well when we make Glass available to more people down the road.

You're not going to see Glass on your favorite Oakleys or Ray-Bans tomorrow, but today marks the start of a new chapter in Glass's design. Excited? Because we definitely are.
Google Glass is expected to see a full commercial launch in the Q3.