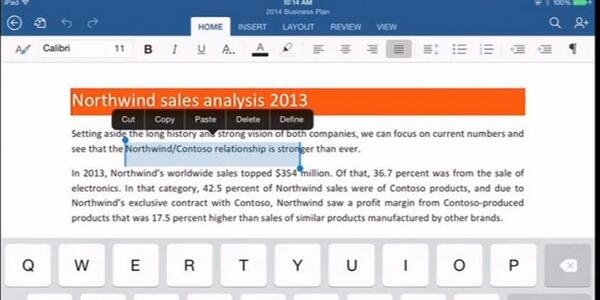 After years
of rumors
,
Microsoft
has finally and officially made its Office suite of applications available for the iPad.
Office for iPad is
available now
in the App Store and includes native versions of Word, Excel and PowerPoint. Each app was built from scratch and will not be ports.
The suite is free to download and will allow for free read-only of all Office documents as well as presentations. If you want to create and edit documents, you will need to pony up for an Office 365 subscription, which can be as cheap as $5 per month depending on your needs.
Releasing the apps for the most popular tablet on the planet (even amongst professional users) should give the tech giant a boost to their subscription sales. Office had been available previously on Windows and Windows Phone devices including the Surface tablet.
You can find the Word
app here
. You can get the Excel app
here
and PowerPoint
here
.