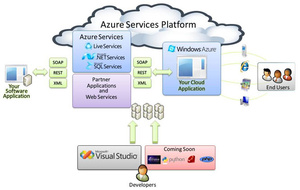 Just a week after Amazon once again cut its prices for its cloud services,
Microsoft
has matched with price cuts for their Azure service.
Azure will see price cuts for compute fall by up to 25 percent, and storage price falls by up to 65 percent. Block Blob storage prices will also fall 65 percent for LRS and 44 percent for GRS, adds the software giant.
Amazon's prices take effect today while Microsoft's will take effect on May 1st.
In addition, Microsoft
has announced
other service changes:
-Added a new tier of General Purpose instances called Basic that will be available starting April 3 and cost up to 27 percent less than the corresponding instances in use today.
-Created a new Basic tier for memory-intensive instances that will be available "in the coming months"
-Added a new redundancy level for Block Blob storage, named Zone Redundant Storage (ZRS) which will be available starting May 1. ZRS keeps data durable by storing up to three copies of your data across multiple facilities," and will be priced 37.5 percent lower than GRS, officials said.
-Microsoft also will be moving to region-specific pricing for users who have deployment flexibility for specific workloads, officials said.