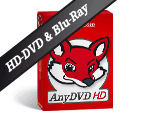 Slysoft owner Giancarlo Bettini has reportedly been found criminally guilty in Antigua of making Blu-ray ripping software.
Slysoft
develops and distributes a bunch of tools for DVD, Blu-ray disc creation and ripping. One of those tools is AnyDVD HD, which can decrypt the contents of Blu-ray Discs so that the raw structure containing the content can be ripped from the disc.
According to
reports
, AACS LA targeted Bettini in Antigua, where Slysoft is located. Due to a clause in Antigua's copyright laws, it is possible to be fined or even imprisoned for distributing tools that circumvent copy protection mechanisms.
Bettini has been found criminally guilty and has been ordered to pay a fine of $30,000 or face imprisonment.
The decision will come as a surprise since Antigua is seen as a very lax territory when it comes to copyright enforcement.
Slysoft and Bettini intend to appeal the verdict, and as of now, all of Slysoft's products are still on sale from the company's website.