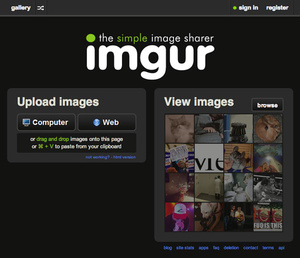 Fans of Reddit most certainly know about the image-sharing site Imgur, as do millions of others, but a new funding round should help make the site an even more household name.
Imgur sees 130 million unique monthly visitors, 1.5 million images uploaded daily and 1.3 billion images viewed.
Despite the massive popularity, the site is infamous for being "bootstrapped," and run as lean as possible by its founder. The founder jokes that the only investment he or others have made to the site was registering the domain name for $7.
As of this week, tech investment firm Andreessen Horowitz has raised $40 million for the site, the first step in a potential long road to going public.
"Being bootstrapped is great,"
added Alan Schaaf, the founder and chief executive of Imgur.
"You own 100 percent of it. But the downside is that you aren't able to move as fast as you want."
"We've talked with over a dozen VCs and angel investors over the years,"
he noted.
"But we've never clicked with any of them until Andreessen. During our initial meeting, we were bouncing ideas around about where Imgur could go."
The company will use the funds to hire more salespeople and engineers and eventually move to a larger office. Additionally, the company will build new mobile apps.
Source:
Original Report: NYTimes Bits