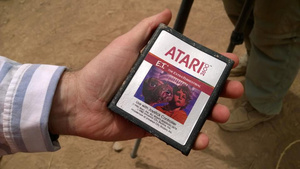 After lying buried for 30 years, a documentary film crew has dug up copies of E.T. The Extra-Terrestrial for Atari 2600 from an Alamogordo, New Mexico landfill.
The 1982 E.T. title was developed for the Atari 2600 games console and is considered to be one of the biggest commercial failures ever in the video games industry, and one of the worst video games of all time. The game itself was developed in only a matter of weeks after the rights were secured in order to be available for sale during the busy holiday season.
Atari suffered massive financial losses during the next two years and E.T. The Extra Terrestrial has been cited as a major source of those losses, and for contributing to an industry slump throughout 1983.
For the past 30 years, it was understood throughout the industry that millions of copies of the failed game were buried in a landfill in Alamogordo, New Mexico, and later covered over with concrete. In 2013, plans were revealed to dig up this piece of video games history.
Today, those copies of that terrible video game have finally seen light again. Fuel Entertainment (the documentary crew), Xbox Entertainment Studios and LightBox Entertainment were given permission to excavate the site several weeks ago, and that digging is currently underway.
So here it is, the first E.T. cartridge exhumed after three decades.
Images by Larry Hryb: twitter.com/majornelson