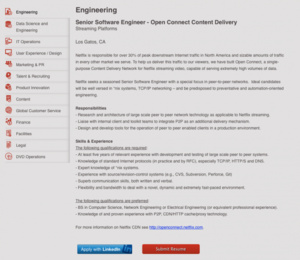 Netflix appears to be hiring an engineer to help the company at least begin testing using a massive scale
peer-to-peer
(
P2P
) architecture for
streaming
video.
The senior software engineer would be working on Netflix's Open Connect content delivery network and helping to explore the P2P route.
Reads the job posting:
"Netflix seeks a seasoned Senior Software Engineer with a special focus in peer-to-peer networks. Duties include: Research and architecture of large-scale peer-to-peer network technology as applicable to Netflix streaming. Liaise with internal client and toolkit teams to integrate P2P as an additional delivery mechanism. Design and develop tools for the operation of peer-to-peer enabled clients in a production environment. The successful applicant is required to have 'At least five years of relevant experience with development and testing of large-scale peer-to-peer systems.' Preferred qualifications include 'Knowledge of and proven experience with P2P, CDN/HTTP cache/proxy technology.'
Of course, major tech companies always invest in R&D, so this latest move could be nothing or the start of something huge. A P2P structure could allow Netflix to offer their services
without needing to pay ISPs
extra for direct access.
Source:
Arstechnica