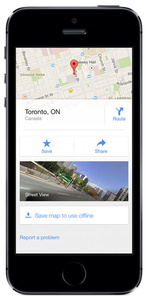 Google has released an update for its Google Maps apps on Android and iOS adding a proper Offline Maps mode that could come in very handy.
Previously versions of the app had the ability to cache offline maps for later use, but it was a more limited functionality that was cut out by Google. This upset some users to the point that they had to revert back to older versions of the apps.
Now with the release of
Google Maps v3.0 for iOS
and
Maps for Android v8.0
, Google has introduced a more useful Offline Mode, which could help your tremendously on your travels if you are not guaranteed a consistent data connection.
All you have to do is search for an area and tap on its place info sheet, then when available, you can select
"Save map to use offline,"
and give your map a custom name, like
"Toronto Vacation."
It will then be available as a
Saved Map
when you tap the profile icon next to the search box in the top-right corner of the app. It is the same on both platforms.
The new Maps apps also can inform you which lane you should be driving in to make sure you don't take the wrong lane and end up in a jam. There has also been improvements to the search nearby feature, allowing you to apply filters like opening hours, ratings, prices and so on so you can find a bar or restaurant to suit your needs and tastes.
Integration with the Uber app also allows users to compare a potential taxi ride with other forms of transit, like public transport or walking. More information on trains has also been added.