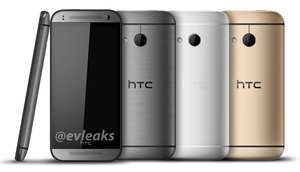 We've known for quite a while that HTC One (M8) will have a little brother like its predecessor. HTC One mini 2 or whatever it might be called has been rumored and leaked since February. Now we've got assurance that it indeed is coming – and we have a price as well!
According to rumors the smaller version of M8 will sport the same aluminum body but the display has been reduced to 4.5 inches. The resolution of the display is said to be 720p, the SOAC is Snapdragon 400 instead of 801 and the camera loses its UltraPixel name but gains megapixels (13mpix vs 4mpix).
According to the
two different
online retailers
in Finland the model will be released next Tuesday, May 13th. It will be priced at around 520 euros which is a whopping $720 and approximately $580 before taxes. That doesn't sound too inexpensive for a smartphone with a 720p display.
It's also worth noting that the retailers call it HTC One Mini M8 instead of the rumored HTC One mini 2.