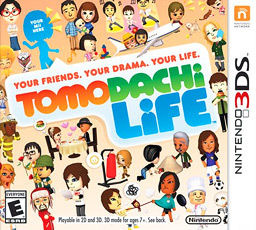 Nintendo has apologized for 'not recognizing' same-sex relationships in Tomodachi Life, after a Social Media campaign sought to force changes to the life-simulation world.
In
Tomodachi Life
, players are represented by their Mii characters and can carry out plenty of different activities in their virtual world, including going on dates with others, and getting married. Two Miis of the same gender cannot marry, however.
This prompted Tye Marini, a 23-year-old man from Arizona, to launch a social media campaign urging Nintendo to permit same-sex marriages in the game, so that he could virtually marry his real-world fiance.
Nintendo responded to the social media campaign, saying that the game would not be changed to allow for virtual gay marriages, and stressing that Nintendo is not trying to "make any form of social commentary" with Tomodachi Life.
That response is fairly reasonable, but the media reaction to it was less so in some quarters, and Nintendo has decided it would be best to apologize for the situation.
"We apologise for disappointing many people by failing to include same-sex relationships in Tomodachi Life. Unfortunately, it is not possible for us to change this game's design, and such a significant development change can't be accomplished with a post-ship patch,"
a
Nintendo statement reads
.
"We pledge that if we create a next instalment in the Tomodachi series, we will strive to design a game-play experience from the ground up that is more inclusive, and better represents all players."