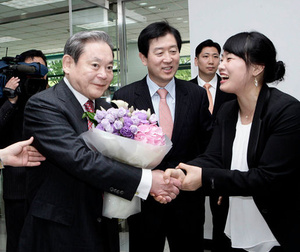 Samsung chairman Lee Kun-hee is reportedly recovering after suffering a heart attack and undergoing emergency surgery.
The 72 year old was admitted to hospital on Saturday evening whilst suffering from breathing difficulties. Mr Lee had undergone surgery in the 1990s and has reportedly suffered from respiratory problems ever since, even travelling overseas during the Winter to help avoid breathing problems.

The Samsung Medical Center has said that he is now recuperating and in a stable condition following surgery.

Lee has been chairman of Samsung since 1987 after his father died, except for a short spell in 2008-2009 while a tax evasion charge was underway. He has been credited with leading Samsung into a position of leadership in the technology markets.

The Samsung boss has an estimated net worth of around $12.6 billion, ranking among Forbes richest people in the world.