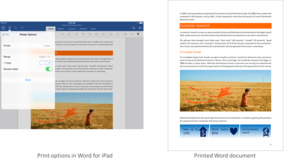 Microsoft's Office for iPad is still going strong with 27 million downloads since launching in March.
Microsoft had previously celebrated hitting over 12 million downloads in the first week of Office for iPad availability on the Apple tablet, which put it right up at the top of the charts in its category.
Fast forward a month later and Office for iPad has more than doubled that tally with 27 million downloads, according to Microsoft's Office Division manager,
Julia White
, announcing it at the TechEd customer conference in Houston, Texas.
Microsoft has said that it has more than 4.4 million paid users of the personal versions of Office for iPad, suggesting that a lot of downloads from business users with corporate Office 365 accounts.
Source:
BusinessInsider