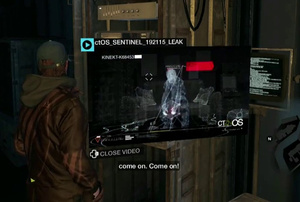 Eurogamer stumbled upon yet another Easter Egg in UbiSoft's Watch Dogs, this time involving Microsoft's Kinect device which was subject to privacy concerns last year.
When Microsoft first showed off the Xbox One console and started to spill details on how it would work, there was a lot of concern over the need for the bundled Kinect camera to be constantly on. With revelations and NSA spying and GCHQ reportedly even considering the use of Kinect, questions were raised about requiring a camera be constantly switched on when unnecessary.
Of course, Microsoft changed direction eventually and made it possible to use Xbox One without Kinect constantly on, and then went even further by unbundling Kinect from its cheapest Xbox One offering.
Ubisoft's Watch Dogs has been found to have a few Easter Eggs already that you find when hacking infrastructure around the city. In this one,
Eurogamer
found that you can hack into a "Kinekt" to watch a male gamer undergoing a fit of rage while playing.
The video is embedded below, but do note that it has quite a bit of colorful language in it. You have been warned!
Source:
Eurogamer