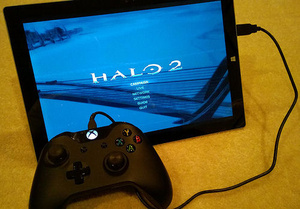 Xbox Live's
Major Nelson
(aka Larry Hryb) has posted downloads for Xbox One controller drivers for Windows PCs.
The drivers will roll out to Windows operating systems as part of regular updates, but if you would rather not wait you can grab them and manually install them on your PC now.
You can use the Xbox One controller with the same games and apps that you might have previously used an Xbox 360 controller for. The drivers will enable the Xbox One controller to be used with any game that featured gamepad support for the Xbox 360 controller.
Download and install the drivers from the links below, and then simply connect your Xbox One controller via a micro USB cable and its game on!
PC Drivers for Xbox One Controller (x86)
PC Drivers for Xbox One Controller (x64)