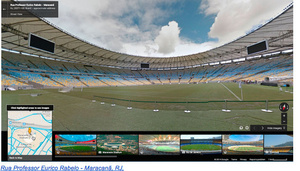 Google has added all 12 World Cup stadiums to Street View ahead of the tournament, as well as Brazil's iconic painted streets and other locations.
The World Cup is set to kick off next week and if you aren't going to Brazil, you can still check out the stadium facilities and tour through the streets. Google has
added all 12 stadiums
and the
iconic painted streets
(Brazilian World Cup tradition) to its Street View service.
Google is also taking the opportunity to highlight other Brazilian resources on Street View, particularly
Iguaçu National Park
and
St. Michael of the Missions
.
It also is reminding those going to Brazil that Google services can help them tremendously. With Google Maps transit, the search giant is promising that Brazilians and tourists will be able to make it to the stadium and other destinations routing the best path by transit.
More than 100 venues have been indoor-mapped by Google too, including airports, shopping malls and so on. For those travelling, Google Maps also provides turn-by-turn navigation with real-time incident reports delivered through Waze.