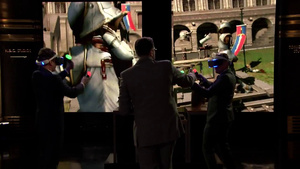 Jimmy Fallon, host of The Tonight Show, got a demonstration of Sony's Project Morpheus Virtual Reality system.
Joshua Topolsky of The Verge brought the VR system along for Fallon to test out a demo, and actor Channing Tatum also had a go.

Fallon had also checked out emerging gaming technology in the past as host of Late Night with Jimmy Fallon, such as Microsoft's Kinect way back when it was known as Project Nadal.

In the Morpheus demo, Fallon has a lot of fun punching the head off of a dummy, and then attempting to attack a dragon. The demo was very limited but it seemed to impress the new host.

Sony is expected to give up more information on Project Morpheus at E3 this year, but is almost certain not to ship any hardware this year.

Here's the demo..