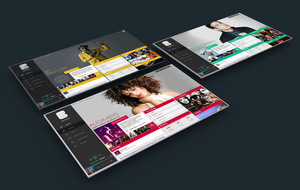 In January,
MEGA
founder Kim Dotcom unveiled his music
streaming
platform Baboom in a very early beta.
The platform is preparing for its international public release, and Dotcom has unveiled some more details. The service will offer higher revenue share for the artists themselves, and will also offer free streaming in the high-quality
FLAC
lossless format.
With noble intentions, Dotcom first discussed Baboom in 2011. Differentiating itself from other services, Dotcom will allow users to install an advertising plugin to their current browser and be rewarded with ongoing free music which also helps the artists receive more money for their work. The goal is to decrease music piracy.
"Baboom is the first music streaming platform to support FLAC streaming, which delivers lossless audio. What this means, is that fans get to listen to music exactly how the artist intended. No degraded audio experience, you get an exact replica of what the artist recorded,"
Baboom Chief Technology Officer Marco Oliveira noted. Most streaming services offer 256kbps
MP3
or
AAC
files, at best.
Of course, to stream in FLAC will require significant
bandwidth
as most FLAC albums are in excess of 250MB. Users will also be able to download tracks for offline listening.
The ad plugin is optional and if you don't want it you can pay for music. 90 percent of the ad revenue goes to the artists with Baboom taking 10 percent. Of course, many top artists are already under contract with record labels so it is unclear who will be signing up besides smaller bands and indies.
Source:
Ernesto