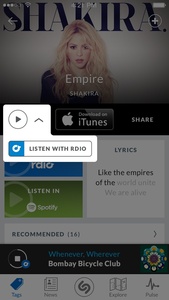 Mobile fans who are tired of jumping from app to app are in for a treat.
The music ID/discovery app Shazam has been updated to allow for users to stream the full track rather than just a short preview, thanks to a partnership with Rdio. Both companies say the feature is free, as long as you have both services (Rdio needs a subscription).
Within the Shazam app, just click the Rdio preview button to listen to the full track, no need to be led to the external Rdio app. If you don't have the Rdio app, you will be prompted to install it.
"It's tedious to leave and come back,"
notes Daniel Danker, Shazam's chief product officer.
"What we're launching today is supercharged with Rdio -- the play button gets an Rdio logo in it, literally every play button in Shazam will have one once it's connected."
Even better for Rdio users, the tracks previewed or listened through Shazam are collected into a playlist.
Source:
Billboard