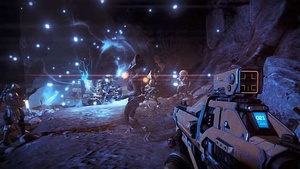 Following a quick maintenance that took the game offline, Bungie's 'Destiny' beta is now available for
Xbox 360
and Xbox One owners.
Codes for the Xbox beta have been (and are currently) being sent via email if you pre-ordered the game or received a code from a different method.
PlayStation owners have been using the beta since last week thanks to an exclusive pact between
Sony
and Bungie, and the beta ends on July 27th.
If you log in and play after 2PM Pacific on Saturday, July 26, Bungie says you will get an "exclusive emblem" that can be used in the final version.
Destiny is set for launch on the PS3, PS4, XBO and Xbox 360 on September 9th.
Source:
Gamespot