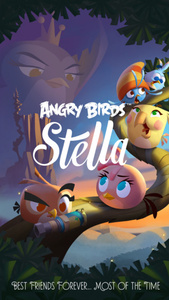 Finnish casual gaming giant Rovio has released their latest spin-off of the popular Angry Birds franchise, dubbed 'Stella.'
Stella is the main female character of the series, having been featured in a few of the past games including Angry Birds GO! and Angry Birds Star Wars.

The game has a familiar feel to past games, with familiar birds and pigs and stars and unlockable characters. The game does add a new slow motion tap-and-hold mechanic which allows for more pointed flight and attacks.

As usual, the game is free, and the first levels are ad-free. Afterwards, there are banner ads and video ads that you will have to sit through. There are also in-app purchases of coins if you need them for special power upgrades during a level.

Rovio has also announced a set of Telepod toys that can be used for new characters or features after you scan them.

The game is available now on Android and iOS.