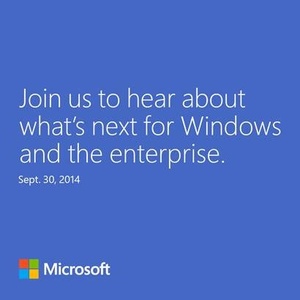 Following a month of rumors, Microsoft's Windows 9 tech preview event is finally official.
Invites have been sent for the Windows event on September 30th, in which top execs Joe Belfiore and Terry Myerson will lead a discussion that is focused "on enterprise and power users" of Windows.
The oft-rumored "Windows Technical Preview" will be made available to enterprise and developers after the event, with many of the operating system's features made available for testing. Virtual desktops, a return of the Start menu, the removal of the Charms bar and an updated Notification Center are key.
Not expected to be included is integrated Cortana support, the voice activated personal assistant found on new Windows Phone devices.
Windows 9 is expected to launch for consumers in March.
Source:
Verge