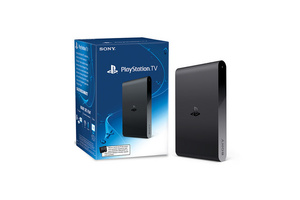 Sony has announced they will be releasing their PlayStation TV set-top box in North America beginning on October 14th.
The company says the mini console will have 700 playable games at launch.

Using PlayStation TV, you can stream PlayStation 4 to another TV in your house and "remote play". It can also be used to play most PS Vita games on a bigger TV screen. Coupled with PlayStation Now, PlayStation TV will also be able to provide access to PlayStation 3 games, and later on games from other Sony consoles.

Finally, Sony gives you access to video and music streaming via Sony Unlimited.

The console will cost $99 for the system only, or you can pay up and get the $140 bundle which includes a DualShock 3 controller, 8GB memory card and The Lego Movie Videogame.