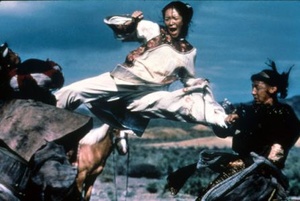 Netflix has announced its first original full-length feature film - a sequel to 2000's hit 'Crouching Tiger, Hidden Dragon.'
Called 'Crouching Tiger, Hidden Dragon: The Green Legend,' the feature film will be released in only IMAX theaters and on Netflix the same day. It is expected to be released where IMAX screens are available, most notably in the U.S. and China.
The film will keep its star, Michelle Yeoh, and premiere in late August, 2015.
"Fans will have unprecedented choice in how they enjoy an amazing and memorable film that combines intense action and incredible beauty,"
said Netflix's head of content, Ted Sarandos.
"We are honored to be working with Harvey Weinstein and a world-class team of creators to bring this epic story to people all over the world and to partner with IMAX, a brand that represents the highest quality of immersive entertainment, in the distribution of this film."
The movie extends Netflix's existing relationship with The Weinstein Co., where it is already the exclusive provider of Weinstein's shows. The movie is said to have a relatively small budget of $20 million.
Source:
Deadline