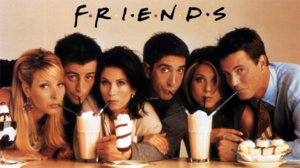 According to Netflix, streaming subscribers will soon have access to every episode of "Friends."
The popular show, which ended in 2004 after a 10 year run on NBC, followed a group of friends living in "NYC" and turned actors like Jennifer Aniston and Courtney Cox into household names.
Netflix says the episodes will be made available starting on January 1, 2015.
They will all be there for you, Jan.1, 2015
https://t.co/EdGNWtFsZl

-- Netflix US (@netflix) October 15, 2014