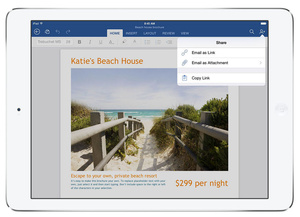 Microsoft and Dropbox are teaming up to make life a lot easier for users of both of their products on mobile.
Dropbox users will soon be able to edit Office files from the Dropbox mobile apps, while Office app users will be able to access Dropbox directly. Changes to documents will be synced across devices as normal.

The Office app can use Dropbox to sync documents across devices without having to leave the app, or load the Dropbox app.

Office app users will also be able to share Dropbox links from the app, meaning you can finish up editing a document and share a link to it immediately.

The relevant mobile apps will be updated for iOS and Android smartphones and tablets in the coming weeks, while the features will be extended to the Dropbox website and Office Online for Desktop use in 2015.

According to Dropbox, its users already store over 35 billion Office documents, spreadsheets and presentations.