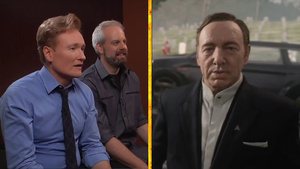 "That was FANTASTIC! That was the greatest feeling I've ever experienced... and I've watched two of my children be born."
Conan has delivered another one of his "reviews" of a blockbuster video game this week. This time, Conan takes on Call of Duty: Advanced Warfare, and has just a little bit of trouble with it, especially when he has to just cross the street.

The talk show host also has a fascination with Kevin Spacey's look-a-like Jonathan Irons, and how his eyes appear to be "dead".

watching Conan get lead character Jack Mitchell killed over and over again crossing the street makes the entire video though.

Check out another one of Conan's golden Clueless Gamer segments.