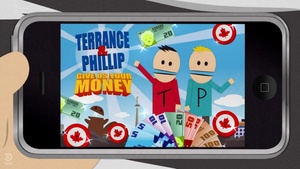 As usual, South Park was hilarious this week and relevant, as the show's creators took on the growing trend of addictive freemium mobile titles.
In the show, Jimmy pushes the new Canadian freemium title with titular characters Terrence and Phillip in which you basically collect coins to help T&P rebuild Canada. Coins (the virtual currency of choice) can of course be purchased for real cash, just like in many popular titles like Clash of Clans, Candy Crush, and many, many more.
The game is built by the Canadian Department of Mobile Gaming and the Prince of Canada goes into "the science behind freemium gaming" which are accurately as follows:
1. Simplicity: A player must be enticed with a simple game loop.
2. Compliments: Make sure you're making the gamer feel special and good about themselves.
3. Fake Currency: Train the players to spend your fake currency.
4. Switcheroo: Offer the customers a way to spend their real money for fake, virtual dollars, so they'll forget they're spending money.
5. Waiting Game: "Make the game about waiting, but make the player pay not to wait."
To not spoil the rest of the show, it is worth watching (if you like South Park already, what are you doing still reading?), and even if you don't it is a fun way to think about the freemium game addiction you might be worried about.
See it here free and legally:
Hulu