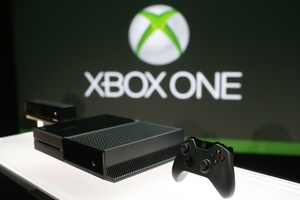 Microsoft says Xbox One sales are on the rise, thanks to new bundles and a price cut.
The company posted this week that they have shipped 10 million units to retailers, with all those units expected to sell through to consumers.
Microsoft dropped the price of the console last week by $50, including bundles with popular new games like Assassin's Creed Unity, Call of Duty: Advanced Warfare, and Sunset Overdrive, giving a jolt to sales. In addition, the highly-anticipated Halo: The Master Chief Collection launched to rave reviews.
Says the company (
press release
): "The response to this wave of blockbuster game releases and new bundles has been amazing, and sales have skyrocketed since the new price took effect on Nov. 2. Compared to the previous week, Xbox One sales in the US have more than tripled, which is exciting as more and more friends will be playing together this holiday. As we head into the busy holiday season Xbox One led generation 8 console sales in the US for the past two weeks."
While the sales and the milestone are significant, the company is still playing catchup with Sony, whose PlayStation 4 reached 10 million units sold over the summer, and has led new console sales for 10 straight months.